The 40th anniversary of National Union in Quang Tri Province
Mr. Nguyen Quan Chinh, Vice Chairman, People's Committee of Quang Tri Province came to visit the site of LED installation.
Posted at: 06-09-2017 10:25:50 AM - Viewed: 1484 - Feedback: 0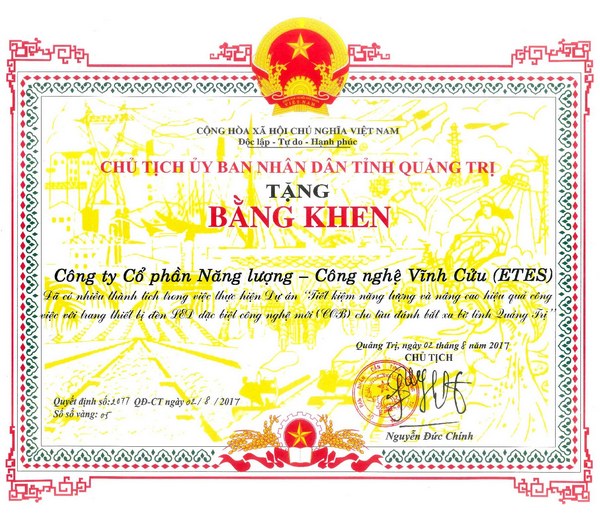 Decision to award for the project; "LED system installation for offshore fishing ships - Quang Tri Province.
Posted at: 02-01-2014 04:05:23 AM - Viewed: 2313 - Feedback: 0

Environment Consultancy
Posted at: 27-02-2019 04:42:50 AM - Viewed: 181 - Feedback: 0
About 9 am on February 11, at Cua Viet fishing port (Trieu Phong, Quang Tri), three fishing boats of Quang Tri fishermen brought 50 tons of scratched gold fish to shore. It is expected that 100 tons of fish will continue to be brought ashore until noon. The total of fish catch would be around 150 tons which is about 8 billion VND.
Posted at: 09-04-2015 11:05:59 AM - Viewed: 2868 - Feedback: 0

Now that the flowers are beginning to bloom and warmer weather is on the way, there are some easy things anyone can do to save energy and money both around the house and at the office. Here are 10 energy saving tips courtesy of the Department of Energy:
Consultancy
Energy Audit
ONLINE
(0909.901.045)
MOU SIGNING CEREMONY ABOUT SPECIAL LED WITH COB TECHNOLOGY FOR FISHING SHIPS BETWEEN QUANG TRI PPC AND NEDO
Online: 173
Today: 6660
This month: 152450
Total: 6443792